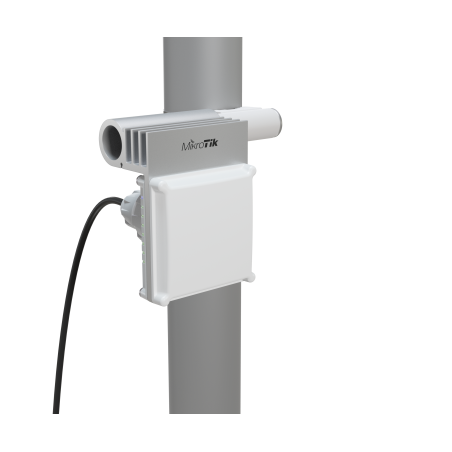  
CubeSA 60Pro ac
A powerful sector antenna to connect multiple 60 GHz devices. Quick and easy networking for all kinds of pop-up events and distances up to 800m.
Leveransvillkor
Vi använder DHL & Postnord för leveranser
Long gone are the days when you had to rely on cables for speed and stability. 60 GHz solutions offer fiber-like speed and stability - while saving you plenty of time and money on installation and maintenance. Our latest Cube 60Pro product line is taking the advantages of 60 GHz networking to the next level – with the 802.11ay standard for even higher distances, stability, speed, and convenience.
If you need to connect multiple devices – take a look at the CubeSA 60Pro ac sector antenna. Reaching distances around 600 meters in point-to-multipoint mode, this device can be very helpful for all kinds of event management: from live shows, festivals, and workshops to construction sites, pop-up vaccination clinics, and so on. No need for complex wired installations in every location – the portable and handy CubeSA 60Pro ac has got you covered! Depending on your setup, the distance can be even greater. For example, with devices like MikroTik nRAY, you can reach up to 800 meters.
Forget about downtime with the automatic 5 GHz backup connection
The 60 GHz frequency is unaffected by the crowded wireless spectrum, it offers high speed and capacity. But it can sometimes struggle during bad weather conditions. That's why both Cube 60Pro devices feature an automatic 5 GHz failover. We have added a powerful directional antenna so that the 5 GHz range can keep up with the 60 GHz.
More durability, less unwanted attention
We have upgraded the enclosure to feature a strong metal base – for better mounting and cooling options. The Cube form-factor emerges from pure practicality: it is durable, unobtrusive, and compact.
Specifications
Details
Product code
CubeG-5ac60ay-SA
Architecture
ARM 32bit
CPU
IPQ-4019
CPU core count
4
CPU nominal frequency
716 MHz
Dimensions
115 x 211 x 90 mm
RouterOS license
4
Operating System
RouterOS
Size of RAM
256 MB
Storage size
64 MB
Storage type
FLASH
MTBF
Approximately 200'000 hours at 25C
Tested ambient temperature
-40°C to 70°C
Powering
Details
Number of DC inputs
1 (PoE-IN)
Max power consumption
13 W
Cooling type
Passive
PoE in
802.3af/at
PoE in input Voltage
18-48 V
Wireless specifications
Details
Wireless 5 GHz Max data rate
433 Mbit/s
Wireless 5 GHz number of chains
1
Wireless 5 GHz standards
802.11a/n/ac
Antenna gain dBi for 5 GHz
11.5
Wireless 5 GHz chip model
IPQ4019
Wireless 5 GHz generation
Wi-Fi 5
Ethernet
Details
10/100/1000 Ethernet ports
1
Other
Certification & Approvals
Details
Certification
CE, FCC, IC, EAC, ROHS
IP
IP54
Wireless specifications
| 5 GHz | Transmit (dBm) | Receive Sensitivity |
| --- | --- | --- |
| 6MBit/s | 22 | -93 |
| 54MBit/s | 18 | -74 |
| MCS0 | 22 | -93 |
| MCS7 | 17 | -71 |
| MCS9 | 15 | -68 |
Det finns inga kundrecensioner just nu.
Kunder som köpt denna produkt köpte också: