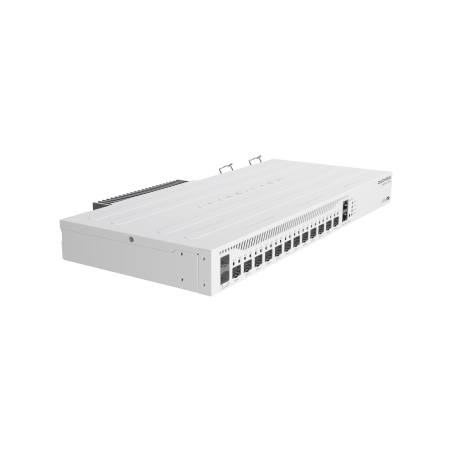  
CCR2004-1G-12S+2XS
The Connectivity Router - your best companion when it comes to SFP, SFP+ and SFP28 management! 1, 10 and 25 Gbps ports in a single device to make your life easier.
Leveransvillkor
Vi använder DHL & Postnord för leveranser
The "Improvise. Adapt. Overcome." mindset can be very helpful, but sometimes you simply need a device that works and solves the problem without additional tinkering. The CCR2004-1G-12S+2XS does just that – forget about all connectivity troubles and expand your setup in any way you please. This handy router features 12 x 10G SFP+ and 2 x 25G SFP28 ports.
CCR2004-1G-12S+2XS is our router with the most powerful single-core performance so far. It provides incredible results in single tunnel (up to 3.4 Gbps) and BGP feed processing.
Be prepared for anything: 10G, 40G and now 25G! Paired with such MikroTik multiport products as CRS317-1G-16S+RM, CRS312-4C+8XG-RM and CRS326-24S+2Q+RM, your networking setup will know no bounds. Performance-wise, CCR2004-1G-12S+2XS is on par with the renowned CCR1009/CCR1016 routers. And with dual redundant power supply you can forget about unexpected downtime! With its elaborate port configuration, the new CCR2004-1G-12S+2XS is the perfect addition to any professional networking arsenal – it will save you tons of time in some tricky situations! Size of RAM in RouterOS v6 1792MB ECC / RouterOS v7 4GB ECC
Specifications
Details
Product code
CCR2004-1G-12S+2XS
Architecture
ARM 64bit
CPU
AL32400
CPU core count
4
CPU nominal frequency
1700 MHz
Dimensions
443 x 224 x 44 mm
RouterOS license
6
Operating System
RouterOS
Size of RAM
4 GB
Storage size
128 MB
Storage type
NAND
MTBF
Approximately 200'000 hours at 25C
Tested ambient temperature
-20°C to 60°C
IPsec hardware acceleration
Yes
Powering
Details
Number of AC inputs
2
AC input range
100-240
Max power consumption
49 W
Max power consumption without attachments
32 W
FAN count
2
Ethernet
Details
10/100/1000 Ethernet ports
1
Fiber
Details
SFP+ ports
12
Number of 25G SFP28 ports
2
Peripherals
Details
Serial console port
RJ45
Other
Details
CPU temperature monitor
Yes
PCB temperature monitor
Yes
Voltage Monitor
Yes
Certification & Approvals
Details
Certification
CE, EAC, ROHS
Included parts
The device has an operating system preinstalled and licensed. No separate purchase is necessary and the product is ready to use. The device includes free software updates for the life of the product or a minimum of 5 years starting from date of purchase..
Det finns inga kundrecensioner just nu.
Kunder som köpt denna produkt köpte också: